Honoring Our Veterans in Kailua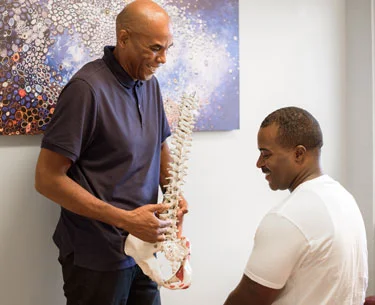 Over the past 12 years, we have been lucky enough to work very closely with veterans. The bottom line is we are here in this great country because generations of veterans sacrificed a lot more than most of us can ever know. They made sure we can enjoy everything that makes living in the United States so enjoyable. We respect those who are willing to defend our country knowing the sacrifice and risk that entails. In turn, we want to make sure veterans can enjoy the health, healing, and happiness they deserve.
Our goal is to offer effective and compassionate care for our veterans and this is why we decided to join the Triwest Healthcare Alliance and become a certified provider. Triwest offers many options including the Community Care Network for allowing veterans to get alternative care outside of the VA health facilities.
One of our doctors is a military veteran. Dr. West served in the US Navy at the Walter Reed Military Medical Center in Bethesda, Maryland as Senior Hospital Corpsman/Field Medical Service Technician ("Grunt Corpsman") with the 3rd Battalion, 6th Marines, 2nd Marine Division at Camp LeJeune, NC. He has first-hand experience caring for troops in garrison and in the field. One of his most memorable experiences was when his unit "Lima Company, 3/6" completed an 11-day field exercise, ending with a 33-mile "hump" from the Northern Training Area to Camp Schwab, on Okinawa, Japan where he treated many Marines having experienced injuries during and after the exercise.
---
Community Care Network
All of our chiropractors here at Windward Wellness are certified to see Veterans under the Community Care Network. To schedule a CCN chiropractic appointment, please take the following steps to obtain a referral:
GO TO VA
• Schedule an appointment with a VA provider (doctor) |  https://www.va.gov/COMMUNITYCARE/programs/veterans/CCN-Veterans.asp
• Your VA care team will work with you to see if you are eligible for community care.
• Eligibility is based on your medical needs, care that is available at VA, and other requirements.
MAKE AN APPOINTMENT
• VA will work with you to find a community provider and make an appointment.
• You can select a community provider or VA can select one for you.
RECEIVE CARE
• Arrive promptly for your appointment.
• If you need to schedule a follow-up appointment, check with your community provider to make sure VA has authorized the care.
---
IMPORTANT:
Make sure VA confirms you are eligible and authorized before proceeding to Step 2.

The community provider selected must be in VA's network and be willing to accept payment from VA.

 If VA has not authorized follow-up care, your community provider should contact VA to arrange the care you need.
---
Please call Windward Wellness in Kailua if we can assist you in contacting the Community Care Network to get started with your care today.
Monday
8:30am - 12:30pm
2:00pm - 6:00pm
---
Tuesday
8:30am - 12:30pm
2:00pm - 6:00pm
---
Wednesday
8:30am - 12:30pm
2:00pm - 6:00pm
---
Thursday
8:30am - 12:30pm
2:00pm - 6:00pm
---
Friday
8:30am - 12:30pm
2:00pm - 6:00pm
---
Saturday
8:30am - 12:30pm
We hope that these hours are
convenient for you. Kindly give 24 hours notice for appointment cancellation.